Top 10 Reasons Why You Should Refurbish Your Workspace
Refurbishing your current office space is an excellent opportunity to inspire positive change and growth within your organisation.
The interest in refurbishments has grown significantly in the post-pandemic return to the office. To attract and retain their staff, companies are looking for more collaborative and interactive, hybrid office designs. So, here are our top 10 reasons why we believe you should consider refurbishing your workspace in 2022…
1. Business growth
Recent growth of your organization could mean the requirement for more staff in your existing space, and you may find your environment becoming overcrowded. A refurbishment enables us to maximize the efficiency of your current workspace through workspace studies and clever design.
2. Contraction / Reorganization
In the current Covid-19 world, a lot of companies are having to make concessions. This for many companies has unfortunately meant reducing their staff numbers or employees now working from home for a number of days a week or on a permanent basis. This gives the organization a unique opportunity to look at upgrading their current space to increase employee moral or even consider working off a reduced floor area and subletting the remaining space out to another tenant.
3. Refreshing or making additions to current facilities
Is your boardroom looking dated? Do you need to refresh your training suite? Are your welfare facilities delivering the right messages to your customers and staff? Consider the existing layout and facilities in how you can add to and improve them. An office refurbishment is a great way to rethink the existing your office, and layout of your spaces and how you could add to and improve them.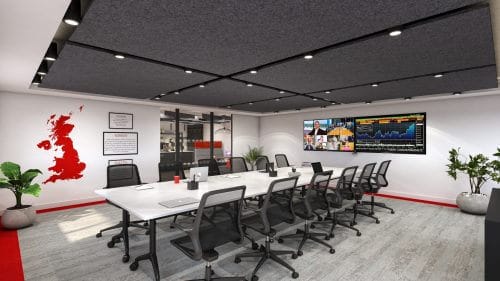 4. Morale & productivity
Even for the most motivated employees, working in an unoptimized workspace can prove to be a detriment to morale and productivity. After all employees spend on average 8 hours per day in the office so their surroundings will have a significant impact on the way they feel and perform. Refurbishing your workspace is a great way to reinvigorate and inspire your workforce to be more productive and happier.
5. Legislation
The Government are constantly bringing in new legislation, such as the Energy Performance of Buildings 2006 Directive and the CRC Energy Efficiency Scheme, that can result in fines for non-compliance. There are also existing pieces of legislation such as the Workplace (Health, Safety and Welfare) Regulations 1992 and Health and Safety (Display Screen Equipment) Regulations 1992. Use your office refurbishment to ensure that you are compliant with the current legislation. 
6. Health & safety
Unsafe environments are places none of us want to work, however they are all too common and often the dangers are hidden. An office refurbishment can uncover these issues and ensure that they are resolved and made compliant to avoid any unwanted legal action.
7. Sustainability
Sustainability is high on the agenda of many businesses and people at the moment, especially post – COP26. An office refurbishment is a great opportunity to showcase your eco-friendly, green approach and send a powerful message to your customers, competitors, and staff. There are several elements in office spaces that can be upgraded to reflect this, for example, energy-saving LED lighting, furniture made from sustainable materials and efficient heating and ventilation systems.
8. Improve your image to clients & prospects
Your office can portray a lot about who you are as an organization to your clients and prospects. What do visitors see on arrival – a tired and dated workplace for a tired and dated company or a fresh and vibrant office for a forward-looking business? An office refurbishment is a great way to bring your workspace up to standard and ensure that it truly reflects who you are as a brand and what you stand for.
9. Attract & retain top talent
'If you want to attract and retain talented employees, having an office in the right location, with the features that today's workers want, is more important than you may think' – Office Agenda says, who carried out a survey on 1,000 workers across the UK. Another recent survey of over 1,500 office staff aged between 18 and 65, by online office agency www.freeofficefinder.com, has revealed 33% of millennial office workers put more focus on the office environment than their salary and benefits. This data proves how influential your office space can be for retaining and attracting top talent, especially if you are struggling to recruit currently. An office refurbishment is guaranteed to inspire your current talent and make you a more attractive employment option for new talent, over against what your competitors may offer.
10. Future-proof your workspace
Every successful business plans for the future. Thinking about how your business is likely to change over the next 5 years and planning for that now is very important. Whilst your workplace needs to reflect your current business values it must be able to adapt to any future changes (expansion, new technology etc) that might be around the corner.